TYSON EVENTS CENTER ANNOUNCES COMPREHENSIVE REOPENING STRATEGY
Oct

2

, 2020
TYSON EVENTS CENTER ANNOUNCES COMPREHENSIVE REOPENING STRATEGY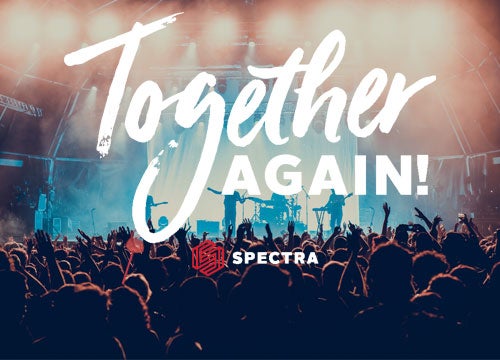 The Tyson Events Center today introduced its all-inclusive reopening plan, which is a blueprint of best practices, policies, and procedures the venues have put in place prior to welcoming back crowds at both facilities.
The "Together AGAIN!" custom reopening strategy was created using industry standards and recommendations; directives from local, state, and federal governments; guidance from the Centers for Disease Control and Prevention (CDC) / World Health Organization (WHO) and health departments; and expertise from Spectra's leaders and subject matter experts. In accordance with Governor Kim Reynolds COVID-19 Proclamation(s), the venue's will be open for events following social distancing, hygiene practices, and public health measures to reduce the risk of transmission of COVID-19 consistent with guidance issued by the Iowa Department of Public Health and the Iowa Department of Inspections and Appeals.
Below is a summary of the key elements of the plan:
SOCIAL DISTANCING
Signage will be posted throughout the venue reminding patrons to socially distance by 6 feet and observe best hygiene practices;
Events will have predetermined attendance and participation limits, as well as limited area capacities.
All fans will be in POD seating, which increases distancing and minimizes fan crossover when entering and exiting their seats. Floor seating and chairs will set based on social distancing guidelines. Fixed seating areas will have areas taped off as unavailable seating.
All cue areas will be marked on the ground, either by decals, tape or paint, for patrons to stand 6 feet apart while in line;
Concourse equipment will be minimized, and one-way traffic will be marked to allow additional space and traffic for social distancing.
CLEANING AND SANITIZATION
Hand sanitizer stations and hand pumps will be available throughout the venue, especially in high-touch areas including doors, railings and concession counters;

Frequent cleaning and sanitization by a dedicated staff in all high-touch areas and restrooms, as well as the implementation of electrostatic sprayers;

Increased ventilation and filtration will be done before, during, and following events to allow more outside airflow and help remove inner contaminants.
PERSONAL PROTECTIVE EQUIPMENT (PPE)
All event attendees over the age of 2 years old are required to wear masks. Exceptions will be made when eating and drinking with social distancing.

All Tyson Events Center and Orpheum Theatre staff including third party contractors working events will be temperature check and required to wear masks;

Plexiglass shields have been installed in areas where staff and fans interact including concessions stands, security checks, guest services, and ticketing areas.
GENERAL
Entry and exit doors will be propped open to allow for touchless access;

Pre-packaged and limited menu options may be available at concession stands.

To further ensure safety by reducing the need for staff to handle guests' belongings, and to expedite fan entry into the venue there will be bag restrictions for all events. Restrictions will limit the size and type of bags that may be brought into the venue. Exceptions to this policy will be made for all baby and medically necessary items after proper inspection.
**Procedures and policies are subject to change on an event by event basis.
"We approached the reopening strategy through the lens of our guests, thinking about their full experience from the time they purchase their ticket to when they pull out of the parking lot to head home," says Spectra's Tim Savona, General Manager of the Tyson Events Center and Orpheum Theatre. "We want our guests and our employees alike to know that every precautionary measure we've implemented is to ensure their health and safety while they are at the Tyson Events Center and Orpheum Theatre. We want our guests to have an enjoyable, straightforward, familiar—and above all, safe—experience."