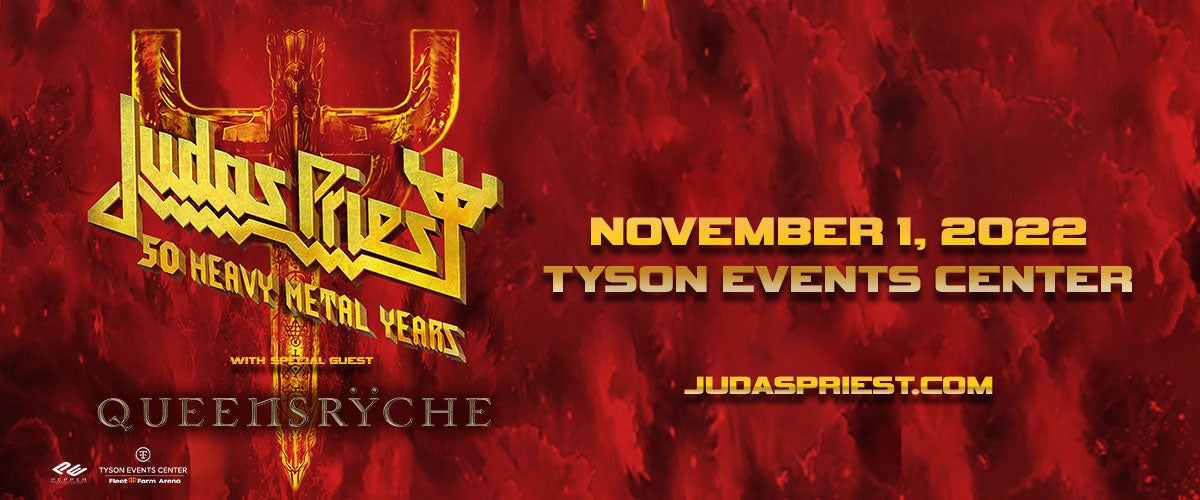 JUDAS PRIEST ANNOUNCES "50 HEAVY METAL YEARS TOUR" AT THE TYSON EVENTS CENTER ON NOVEMBER 1ST
June

21

, 2022
JUDAS PRIEST ANNOUNCES "50 HEAVY METAL YEARS TOUR" AT THE TYSON EVENTS CENTER ON NOVEMBER 1ST
One of heavy metal's all-time greats, Judas Priest, will get the opportunity to celebrate their 50th anniversary again this year with the launch of a new North American fall tour. Judas Priest's "50 Heavy Metal Years" includes a tour stop at the Tyson Events Center in Sioux City, Iowa on Tuesday, November 1st.
Tickets starting at $45 go on sale this Friday, June 24 at 10:00 am. Tickets are available at www.PrimebankTix.com, TysonCenter.com or by visiting the Primebank Box Office at the Tyson Events Center.
There are few heavy metal bands that have managed to scale the heights that Judas Priest have during their nearly 50-year career. Their presence and influence remains at an all-time high as evidenced by 2018's 'Firepower' being the highest charting album of their career, a 2010 Grammy Award win for 'Best Metal Performance', plus being a 2006VH1 Rock Honors recipient and a 2017 Rock and Roll Hall of Fame nomination. Judas Priest originally formed in 1969in Birmingham, England (an area that many feel birthed heavy metal). Rob Halford, Glenn Tipton, K.K. Downing and Ian Hill would be the nucleus of musicians (along with several different drummers over the years) that would go on to change the face of heavy metal. After a 'feeling out' period of a couple of albums, 1974's 'Rocka Rolla' and 1976's 'Sad Wings of Destiny' this line-up truly hit their stride. The result was a quartet of albums that separated Priest from the rest of the hard rock pack-1977's 'Sin After Sin', 1978's 'Stained Class' and 'Hell Bent for Leather', and1979's 'Unleashed in the East', which spawned such metal anthems as 'Sinner', 'Diamonds and Rust', 'Hell Bent for Leather', and 'The Green Manalishi (With the Two-Pronged Crown)'. Also, Priest were one of the first metal bands to exclusively wear leather and studs–a look that began during this era and would eventually be embraced by metal heads throughout the world.
Additionally in 2022, Priestband members Rob Halford, Glenn Tipton, Ian Hill and Scott Travis will be inducted into the Rock and Roll Hall of Fame.
No doubt, Priest will continue to storm their way across the globe spreading their special brand of heavy metal throughout!